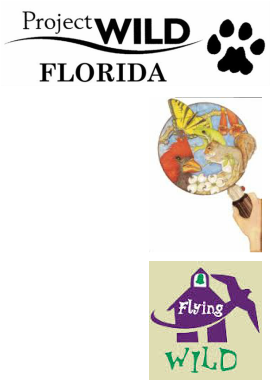 Project WILD Workshops
2 Workshops in one, 6-hr Training!
Registration closed June 22, 2017
June 29, 2017 - Thursday
9:00 AM – 3:00 PM
Registration Required
Form is located at bottom of this webpage

Host Site
Moccasin Lake Environmental Education Center, 2750 Park Trail Lane, Clearwater, FL 33759

Attendees: For Adult Educators of K-6 grades
Includes formal and informal educators - nature center staff / volunteers, scout leaders, after-school educators, etc.


"Schoolyard WILDlife – Schoolyard Activities
and Ecology"
plus
"Flying WILD"
Minimum: 15 participants

Free Training
"Schoolyard WILDlife" curriculum is included

"Flying WILD" booklet not included, but can be purchased through national webstore

Attendees must complete 6-hour training to receive completion certificates for both trainings and the "Schoolyard WILDlife" curriculum booklet; no exceptions for leaving early or arriving late

Registration required; registration deadline Thursday, June 22, 2017 at 5:00 PM
---
The Project WILD curriculum links students and wildlife through its mission to provide wildlife-based conservation and environmental education that fosters responsible actions toward wildlife and related natural resources. Through the use of balanced curriculum materials and professional training workshops, Project WILD accomplishes its goal of developing awareness, knowledge, skills, and commitment. This results in the making of informed decisions, responsible behavior, and constructive action concerning wildlife and the environment.

Created for formal classroom teachers and informal educators – nature center employees, scout leaders, home school educators, etc. – to use for teaching youths about the natural world around us.


Registration Closed for Project WILD Training