Community News
We want you to stay informed about natural Florida so that you can make a positive difference in Florida's future.

Below we share community postings, new scientific findings, press releases, job announcements, volunteer recruitment for government and non-profit initiatives, citizen science opportunities, and similar nature-related information.



Eco Fun FestivalFebruary 26, 2017 - Sunday11:00 AM - 4:00 PMBridgeway Acres Commons (near solid waste facility / I-275)11418 34th St. N., in Clearwater
Pinellas County Solid Waste will be hosting the 1st Annual Eco Fun Festival on Sunday, Feb. 26, from 11 a.m. until 4 p.m., at Bridgeway Acres Commons on the grounds of the solid waste facility, located at 11418 34th St. N., in Clearwater. The event is free and open to the public. Free parking will also be provided.
This family-friendly event will feature tours of Pinellas County's Solid Waste Facility, educational and environmental presentations, environmentally-themed exhibitors, equipment demonstrations, giveaways, food vendors and the ever-popular Touch-a-Truck exhibit in the park-like atmosphere of the newly-designated Bridgeway Acres Commons—a dedicated green space within the facility.
The goal of the Eco Fun Festival is to showcase the many options residents have to make positive environmental changes in their lifestyle, homes and community. These positive changes can add up and have a big impact on preserving our local environment.
What To Know If You Go (also see attached flyer):
What: 1st Annual Eco Fun Festival, a family-friendly outdoor event featuring tours, environmental presenters and exhibitors, Touch-a-Truck, giveaways and food vendors
Where: Pinellas County Solid Waste, Bridgeway Acres Commons, 11418 34th St. N., Clearwater
When: Sunday, Feb. 26, from 11 a.m. to 4 p.m.
Cost: Free to enter, prices vary for food
Parking: Free parking onsite
Contact: Call (727) 464-7500 for more information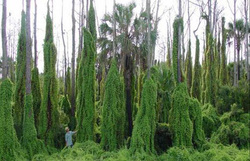 Suncoast CISMA Recruitment Meeting
Date: February 28, 2017
Time: 10:00 AM to NOON
Location: Hillsborough County Extension Service
Conference Center
5339 County Road 579, Seffner, Florida 33584
Phone: 813-744-5519
Are you concerned about the impact of invasive species on our natural environment? Now is your chance to make a difference! Come join the Suncoast Cooperative Invasive Species Management Area (CISMA).
Our organization has been around since 2011 and we are looking for people who want to make a difference! You don't have to be an environmental professional to join, and you don't have to belong to an agency - everyone is welcome. Come join Steering Committee members to discuss your ideas that can help shape the CISMA in the future!
The Suncoast CISMA is a four-county organization encompassing Pinellas, Hillsborough, Sarasota and Manatee counties. Our mission is to address the threat to native diversity within the Suncoast
Cooperative Invasive Species Management Area by coordinating and increasing efforts to eliminate or reduce invasive, non-native plants and animals across public and private boundaries.
To learn more about the Suncoast CISMA and other CISMAs across the state visit
http://www.floridainvasives.org
.
---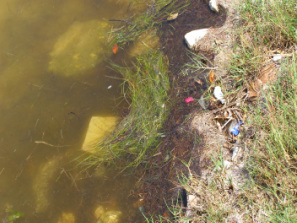 Volunteer for Great American Cleanup
Date: March 25, 2017
Time: 8:00 AM - 12:30 PM

Pinellas County, in partnership with Keep Pinellas Beautiful, is asking for volunteers to help clean up two waterways, the Cross Bayou Canal and Joe's Creek, on Saturday, March 25, from 8 a.m. until 12:30 p.m.


---

Volunteers Needed for Bioblitz

May 6, 2017 - Saturday

Contact for More Information or to Volunteer:

Jim McGinity, Environmental Resource Teacher

Learning Gate Community School

16215 Hanna Road, Lutz, FL 33549

(813) 948-4190 Ext. 384

jim@learninggate.org Bioblitz: 2nd Annual Bioinventory Competition Event at Learning Gate Community School

The Bioblitz is a 1-day rapid biological inventory of a given property. In addition to documenting the species found on the property, it is an educational/outreach event. It allows citizen volunteers to interact with professional scientists who are experts in their given specialty. Last year was Learning Gate's first year and a lot was learned - 147 documented species of plants and animals and had 50+ participants. This year, Learning Gate wants to expand the number of groups and experts that are involved.

The event is taking place on Saturday, May 6th this year. The school would like volunteers who are from the community including college students, amateur scientists, and anyone who wants to learn more about the nature around them.

For now, the Bioblitz is a 1/2 day event (morning) but in the future the school would like to expand it to a full day (most Bioblitzes are 24 hours). Here are links about bioblitzes done around the country. The Smokey Mountains have been doing them for over 15 years and have documented a number of new species (which is really cool).

Bioblitz Links:
https://www.nps.gov/subjects/biodiversity/national-parks-bioblitz.htm
http://www.nationalgeographic.org/media/schoolyard-bioblitz/ The Topic Experts Jim is looking for are as follows:

Birds
Terrestrial Insects - UF Grad Students
Aquatic Insects - UF Grad Students
Terrestrial Plants
Aquatic Plants
Reptiles/Amphibians
Mycology - USF Professor
Mammals

Please consider helping at this fun, educational event. Contact Jim to express your interest.

Attention all Teachers in the Central West Florida Region --
SPLASH Grants
Applications due late August 2017 for 2017-2018 School Year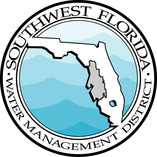 SPLASH Grants -
Sensing Nature provides classroom and field trip programs that have already been pre-approved for SPLASH Grant activities. If you would like to partner with us on your school's SPLASH Grant application, please contact us today.
Never applied for Grant before?
Do not worry, we can work with you throughout the application process. Our staff can assist you no matter what your grant application experience.
We want you and your students to have a superior nature experience with memories and knowledge that could last a lifetime. Come outdoors with your students and Sensing Nature!
Click Here for Splash Grant Information
---